Category: Service to Youth
Nominator: Faygie Levy

Rabbi Zalman Grossbaum, CEO of Friendship Circle/LifeTown, and wife Toba Grossbaum, the organization's COO, are lifelong educators and special needs activists. Since the start of the pandemic, they have transformed their organization to provide safe, virtual and socially distanced interactive and educational programming for those impacted most by isolation during the pandemic: individuals with special needs and homebound seniors. Creative, critical programming provided a sense of normalcy and community during the pandemic. Events hosted included drive-through carnivals and car parades, virtual social get-togethers, and online programs for beleaguered parents. They also organized PPE distributions and food deliveries for homebound seniors.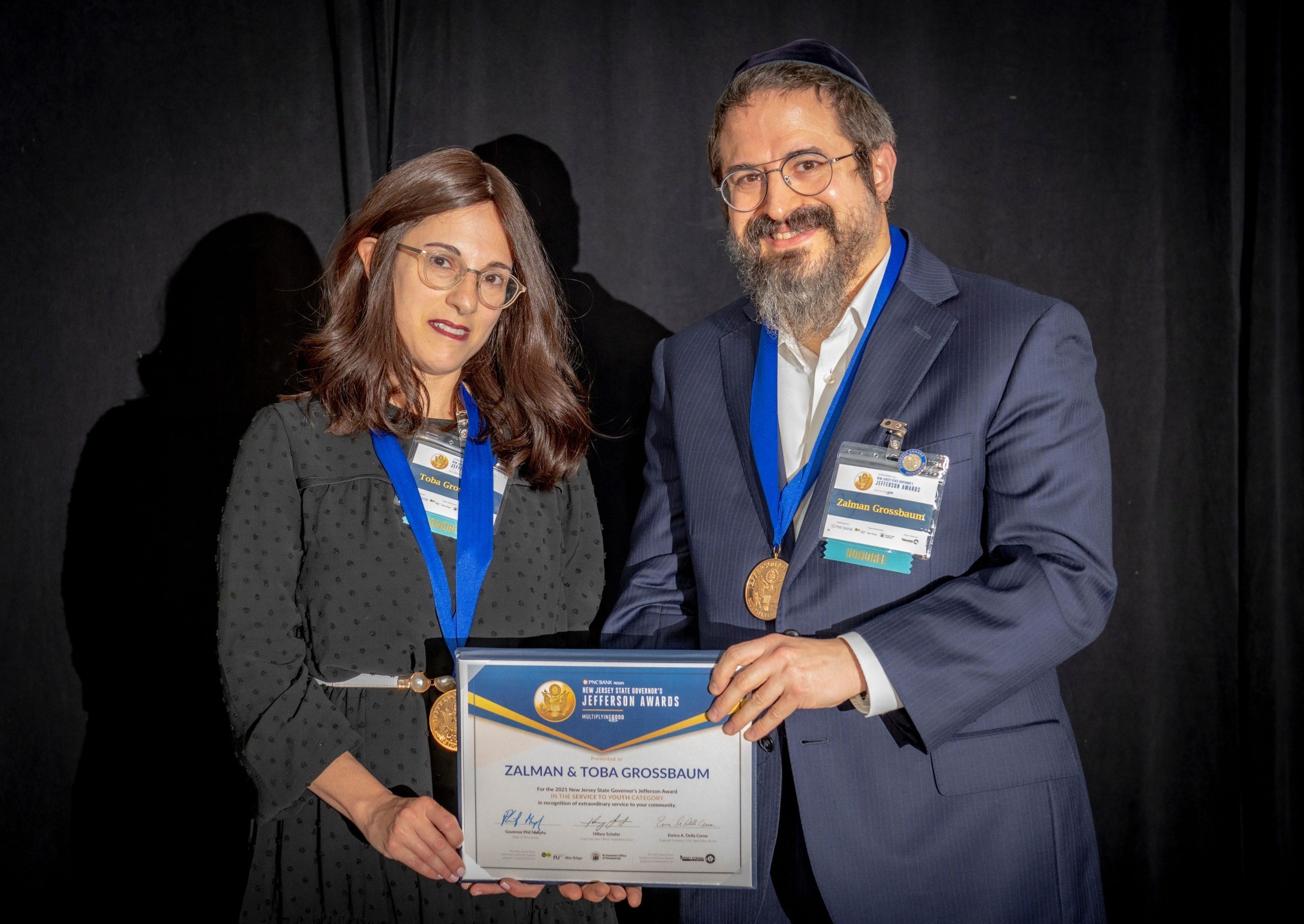 What motivated them to serve/volunteer? 
Twenty-four years ago, after meeting a family in their neighborhood whose son has autism, Toba and Zalman learned New Jersey has the highest rate of autism nationwide, and these children faced isolation because of a lack of understanding and support. Inspired by the work of friends in Michigan, Toba and Zalman formed the Friendship Circle, recruited a cadre of teen volunteers, and embarked on a mission of providing resources and support for children with special needs and their families. Their motivation is making the world a place where people of all abilities are given the proper support to thrive.
What did they achieve/how did they make a difference? 
As an extension of Friendship Circle's mission, in 2019 Zalman and Toba opened LifeTown, a 53,000-square-foot, fully inclusive and accessible center where everyone celebrates and experiences life together. It offers myriad opportunities for recreation, education and therapeutic play aimed at providing a comprehensive slate of programming for individuals with special abilities and their families.
During the pandemic, Toba and Zalman adapted LifeTown to still offer unique programming for the families and children it serves. They have responded to the needs of the community by pivoting to virtual platforms and social distancing for delivery of their programs, while maintaining a personal touch and social connection. They have reimagined, retooled and reinvented all the programs, modes of service, and even communication to ensure that families and people feeling isolated know that they are not alone.  Through each of their ongoing food distributions, they helped hundreds homebound seniors in New Jersey who were affected most by isolation enjoy a meal and feel a sense of community.   Through their socially distanced outdoor events, Toba and Zalman helped strengthen the bonds of friendship that are even more difficult for children with special needs to obtain during the pandemic.   Between Friendship Circle and LifeTown, more than 7,000 teens have volunteered and spent time with a child, teen or young adult with special needs. These teens have not only helped these individuals form invaluable bonds and real-life skills, but they have become advocates for inclusivity in their schools, houses of worship, and social spheres at large.